The Fertility World IVF center is offering low IVF treatment costs from 5000 USD up to 20,000 USD in Qatar. It has been the most trusted center since it came into existence. When an infertile couple first considered in vitro fertilization IVF center in Doha, Qatar. Their choice was only the Fertility World because it is highly prioritized in individuals and tailored to a woman's specific needs. It provides up to 100% success rates. Also, If couples wish to pursue IVF treatment in India, the maximum cost will be 7000 USD including a Visa invitation, apartment, till the entire treatment is done.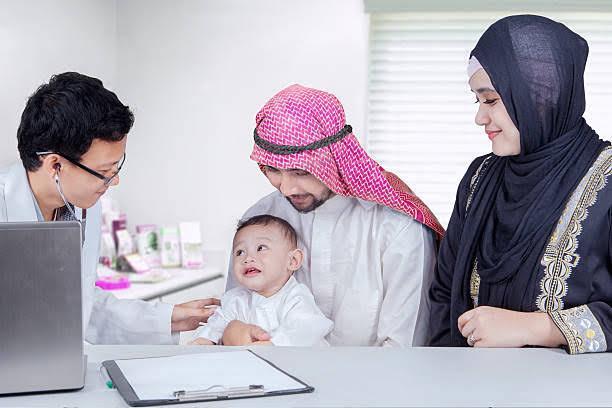 Below are the table of IVF cost in Qatar in details @ Fertility World IVF Center:
| | |
| --- | --- |
| IVF TREATMENTS | Cost in USD |
| Fertility Consultation | Free |
| Basic IVF treatments (no complications) | 5000 |
| IVF with Donor Eggs | 6500-7000 |
| IVF with ICSI | 8000 |
| Laser-Assisted Hatching Program | 5000 |
| IVF with TESA, PESA | 8500 |
| IUI Treatment + IVF | 10,000 |
| | |
| --- | --- |
| Medication Cost during IVF | Cost in USD |
| HCG injection | 100 |
| Cetrotide dose | 250 |
| Stimulation injection | 300 |
| Other medication costs | 300 |
| The Entire Course of Medication during IVF | 1500 |
IVF success rates in Qatar
The Fertility World best IVF Centre in Doha, Qatar produces the highest IVF treatment success rate in all of our wide variety of assisted reproduction treatments in Qatar. We give committed hope's to every couple who is seeking IVF treatments.
Figure 1: Bar graphical representation of IVF success rates, at fertility world in Qatar below: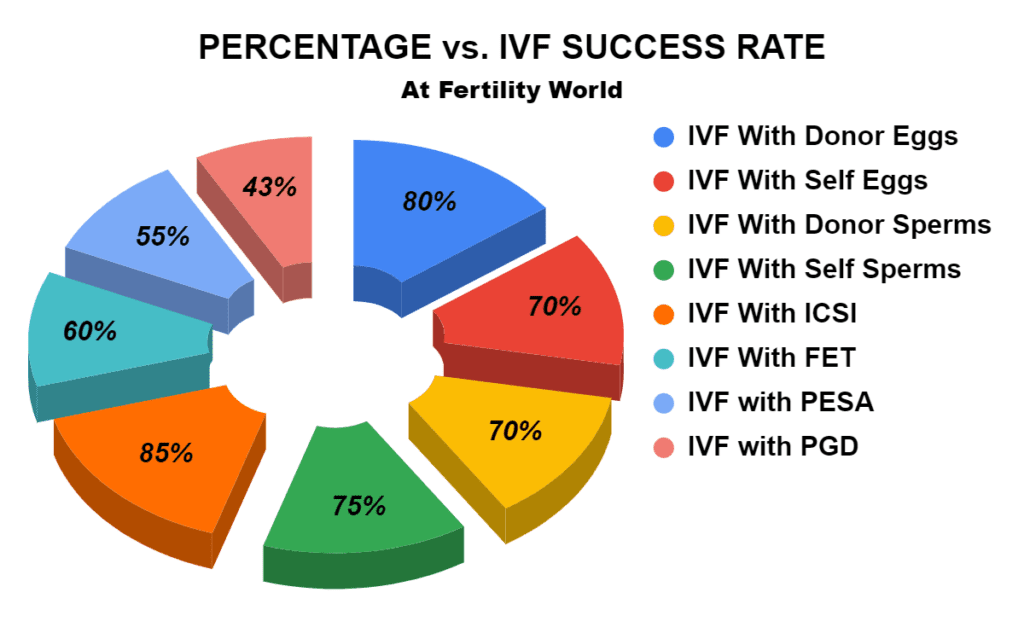 Depending on your personal medical history, your chances of success may be lower or higher (uncertainty). However, we bring you IVF along with different advanced treatment options to tackle your infertility with higher success rates:
IVF + Intracytoplasmic sperm injection (ICSI),
Natural Cycle IVF (with self egg),
IVF+Laser assisted Hatching,
IVF + TESA, TESE & PESA
Intrauterine Insemination (IUI),
Gender Selection (not allowed in India),
Comprehensive Chromosomal Screening (CCS),
Screening for hereditary diseases through PGD and much more.
Why does the Fertility World become the parent's choice for IVF Treatment?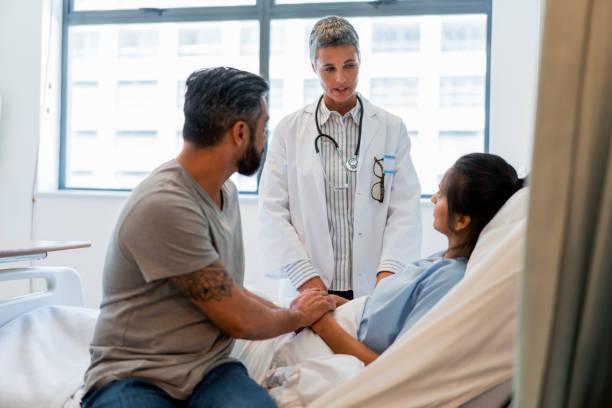 The tests, medication, and processes involved in IVF are guaranteed standards and procedures.
Offers a reasonable IVF treatment with world-class facilities
Highest IVF success rates in Qatar
Having the best lawyer for documentations work
Have an excellent donor bank wherein patients choose donors freely on their requirements.
Fertility World IVF center in UAE, India and the World: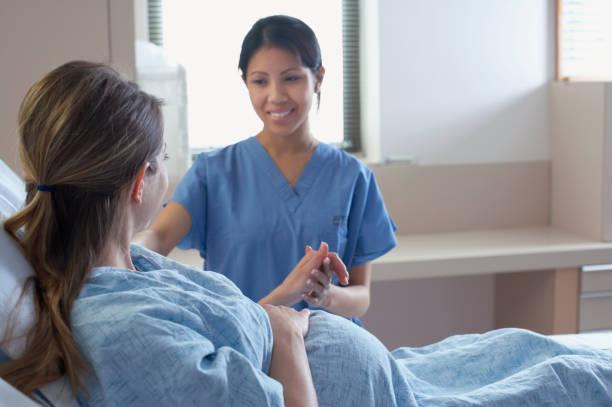 Apart from its best-recognized fertility center in Doha, Qatar, Fertility World IVF center has its reputed accreditation in different parts of UAE winning as the best fertility center: it has a high IVF success rate in India and other dedicated below countries:
Dubai
Abu Dhabi
Sharjah
Qatar
Saudi Arabia
Pan India
India as a IVF destination for foreigner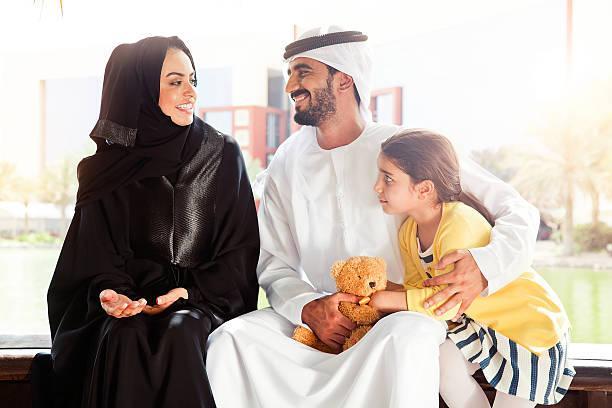 Fertilityworld has its best centers in Pan India with a higher success rate. It has the largest branches of fertility services in Pan India holds the top position in IVF treatment India. Here, it has every solution from scratch to your parenthood dreams.
It provides free video consultations with doctors and lawyers.
Good donor banks (eggs/sperms/embryo) where the parents can choose their donor freely based on its requirements..
Visa invitation to stay (Hotels) we are 24*7 available for patients.
IVF cost in India for Qatari patients starts from 3,500 usd.
Make an appointment: Start your IVF journey
What is the Average Cost of IVF in Qatar?
Generally, the average cost of IVF in Qatar is 5000 USD for a single IVF cycle (get pregnant on the first IVF attempt) and it can go up to 20,000 USD depending on your medical conditions, repetition of IVF Cycle, and repeat medications. This inclusive package covers fertility medications, ultrasounds, blood hormonal tests, the procedure of egg retrieval, fertilization, and embryo transfer. These are all the steps that come in each IVF cycle of the patient's treatment. Each cycle of IVF takes additional cost from the couple. IVF treatment success, all depends upon the age factor of the couple.
Where to get a lower cost of IVF in Qatar?
The Fertility World in Qatar is offering a lower cost of IVF than any other fertility center in Qatar. It provides IVF treatments starting from 5000 USD and up to 20,000 USD for advanced IVF treatments, also depending on your medical conditions the IVF cost falls between 5000 to 20,000 USD. The fertility world is always flexible on its packaged offering. It does not entertain any hidden extra charges. It builds strong confidence in its cost and its success rates without compromise.
IVF Cost with Donor eggs in Qatar
In the fertility world in Qatar IVF cost with a donor egg for any couple ranges from 7000 to 7500 (the additional cost of Egg Donor here is 1000 – 1500).
If the female is unable to release a healthy quality of eggs, creating IVF is hard to accomplish then IVF with donor egg is used to achieve healthy fertilization.
How to Get a Donor Egg For IVF Treatment in Qatar?
The Fertility World considers Egg donors either known to the recipient (infertile parent) or anonymous. Some intending couples proceed to IVF treatments with their known donor eggs.
Also, most couples depend upon the fertility centers for donor egg arrangements to secure their career time, to avoid tensions, insecurity, and traveling in search of donors.
Therefore, the Fertility World is always ready, equipped with all the requirements needed in IVF treatments. We provide our best highly qualified medically and psychologically sound Egg Donors profiles to our intending parents to choose from our Donors Bank. Not only from our bank but we are collaborating with the best Donor Banks to serve your choice of inheritance.
We provide confidential relevant information in respect of the donor, such as height, weight, age, educational qualifications, profession, the color of the skin, and the eyes to our prospective couples, and based on their selection, the process of assisted reproduction starts to fulfill their dreams of parenthood. Our coordination team takes complete control of the procedures and serves you 100% success.
Our unique qualifications of the Egg donors:
She is young, healthy at her best reproductive age,
She is free from HIV, hepatitis B & C, hypertension, diabetes, STD, Genetic disorders (thalassemia).
Her blood group, the Rh status are determined and recorded.
She is between the age of 21 to 35 years.
Record of major diseases including any psychiatric disorder, and the family background in respect of the history of any familial disorder is free.
Why IVF with ICSI?
If the couple is facing male factor infertility, then ICSI treatment with IVF is carried forward, it may cost additional.
Does the IVF inclusive package cover the following factors?
The inclusive package of IVF covers the following factors:
Consultation charge- Free
Fertility medications,
Hormonal injections,
Vaginal ultrasounds,
Blood hormonal tests
Each visit to the clinic
Eggs retrieval process
Fertilization
Embryo transfer
Lab charges
Professionals fees
Other miscellaneous.
IVF Cost in Qatar is pocket-friendly and easily payable by each infertile couple (rich/poor), who are seeking the best and affordable IVF treatment for them. So, it takes 5000 to 20,000 USD for the completion of the IVF cycle.
Getting ready
First, do research, check whether the clinic or hospital or the Fertility World you are considering will offer you IVF treatment. Book an appointment and get direct free access consultation with the doctors to share your medical background.
The best age for men and women for IVF treatment
Age plays an important factor in achieving pregnancy. The best reproductive age for men is till the age 45-50 till 60 years. While the ideal age for women to achieve IVF pregnancy is between 25 to 35 years, female fertility starts declining after 30 years of age.
What are the reasons for IVF treatment?
IVF is an alternative option for those couples to get pregnant. If you and your partner are not able to conceive pregnancy naturally after long periods of having regular intercourse, or you have medical conditions, genetic disease, or cancers and you don't want to pass it to your child. You should go for IVF treatment. The following could be the reason for your inability to conceive:
Fallopian tube damage or blockage:

It creates barriers for an egg to be fertilized, or for an embryo to travel to the uterus.

Ovulation disorders:

If ovulation is irregular or absent, fewer eggs are available for fertilization which makes it more likely to get conceived or not.

Endometriosis:

The uterine tissue implants grow outside the uterus which affects the function of ovaries, uterus, and fallopian tubes. Fails pregnancy.

Uterine fibroids:

Benign tumors grow in the wall of the uterus. It is common in women in their 30s and 40s. It interferes with the implantation of the fertilized egg.

Previous tubal sterilization or removal:

If the fallopian tubes are cut or blocked permanently to avoid pregnancy due to medical conditions and you want to conceive.

Impaired sperm production or function:

Below-average sperm concentration, weak and poor mobility of sperm, or abnormalities in sperm size and shape can make it difficult for sperm to fertilize an egg.

Unexplained infertility:

No cause of infertility has been found despite evaluation for common causes.

A genetic disorder:

If either one or both the partners have inherited genetic disease and are at risk of passing on a genetic disorder to your child, go for preimplantation genetic testing – a procedure that involves IVF. Embryos that don't contain identified problems can be transferred to the uterus.

Fertility preservation for cancer:

If you're about to start cancer treatment- such as radiation or chemotherapy- it can harm your fertility, fertility preservation for IVF is an option for future pregnancy. Your eggs will be harvested from ovaries and frozen in an unfertilized state for later use, Or the eggs can be fertilized and frozen as embryos for future use in IVF with surrogacy.
Have you decided?
If you're satisfied with what you were looking for in the fertility world in Qatar or Still need to understand any related information, costs, or other fertility options. Please, book an appointment, we will schedule your direct free consultations with our Doctors in no time.
Once you agree, we take care of you from here- Your Visas, your traveling, arrangements of hotels, foods, until you embrace your child in your arms.
We're available 24*7 to serve you in a better way. Together we built your family(ies). Contact us today!