High success rate in IVF+ICSI+IUI treatments
Low-Cost of IVF starts from Rs.90,000 only
Award Winning Fertility Experts.
Free first consultation: Book an appointment
Call/W:

919311850412

Email:

info@fertilityworld.in
In-Vitro Fertilisation (IVF) in Gurgaon/Gurugram, India: IVF is a fertility treatment procedure that enlightens many infertile hopeful parents with the second alternative chance for conceiving a child in the fertility laboratory using the techniques of assisted reproduction. The FertilityWorld clinic is the Best IVF centre in Gurugram with advanced labs and highly experienced doctors with a high success rate.
IVF is the most effective and successful form of assisted reproductive technology. The procedure can be done using self eggs and your partner's sperm. It is also done with eggs, sperm, or embryos from known or anonymous healthy donors. In some cases, IVF is achieved using a healthy gestational carrier- a healthy woman that helps you and carries your child in her womb.
How can I know that I need IVF?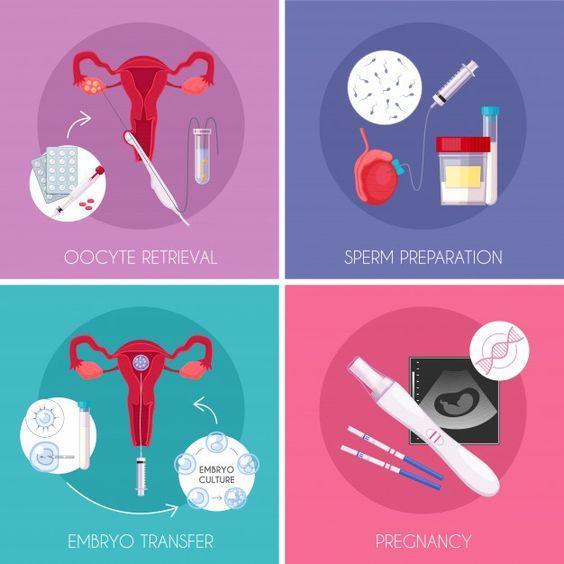 IVF treatment is performed to treat infertility. If you and your partner are not able to conceive pregnancy naturally after long periods of having regular intercourse, or you have medical conditions, or genetic disease, or cancers and you don't want to pass it to your child. IVF is offered as a primary treatment for infertility in women over age 40. Then you should go to a fertility specialist and plan for IVF treatment at your reliable age of reproduction. However, firstly you and your partner must try less-invasive treatment (fertility drugs to increase production of eggs or IUI) before attempting IVF or following the suggestion from the fertility specialist.
Intrauterine insemination (IUI): Procedure in which sperm are placed directly into the uterus near the time of ovulation.
You and your partner may possess the following conditions:
Fallopian tube damage or blockage: It makes barriers for an egg to be fertilized, or for an embryo to travel to the uterus.
Ovulation disorders: If ovulation is irregular or absent, fewer eggs are available for fertilization.
Endometriosis: The uterine tissue implants grow outside the uterus which affects the function of ovaries, uterus, and fallopian tubes.
Uterine fibroids: Benign tumors grow in the wall of the uterus. It is common in women in their 30s and 40s. It interferes with the implantation of the fertilized egg.
Previous tubal sterilization or removal: A type of sterilization in which the fallopian tubes are cut or blocked to permanently avoid pregnancy- want to conceive-IVF is an alternative to tubal ligation reversal.
Impaired sperm production or function: Below-average sperm concentration, weak and poor mobility of sperm, or abnormalities in sperm size and shape can make it difficult for sperm to fertilize an egg.
Unexplained infertility: No cause of infertility has been found despite evaluation for common causes.
A genetic disorder: If either one or both the partners have inherited genetic disease and are at risk of passing on a genetic disorder to your child, go for preimplantation genetic testing – a procedure that involves IVF. Embryos that don't contain identified problems can be transferred to the uterus.
Fertility preservation for cancer: If you're about to start cancer treatment- such as radiation or chemotherapy- it can harm your fertility, fertility preservation for IVF is an option for future pregnancy. Your eggs will be harvested from ovaries and frozen in an unfertilized state for later use, Or the eggs can be fertilized and frozen as embryos for future use in IVF with surrogacy.
Process of IVF:
IVF process involves the following steps —
Ovarian stimulation,
Egg retrieval,
Sperm retrieval,
Fertilization and embryo implantation,
Pregnancy,
Welcome the Baby.
During the process of IVF, mature eggs are retrieved from the ovaries and fertilized by the sperm in a fertility laboratory by experts. The fertilized egg called an embryo is implanted into the uterus and you're monitored on a scheduled basis to check for a positive pregnancy. These steps can take up to three weeks for one full cycle of IVF. Once pregnancy is confirmed; you will have a normal pregnancy term and deliver the baby. In some cases, the duration of the IVF process can take longer than usual depending upon your fertility condition as mentioned above/failure in the first IVF cycle.
What can I expect from IVF pregnancy and IVF born baby?
Your chances of having positive pregnancy and delivering a healthy baby through IVF treatment depends upon many factors such as:
Your age plays an important factor (best reproductive age is 18 to 35 years), the cause of infertility, and medical issues,
IVF can take a toll on your mental health,
IVF can be time-consuming, expensive, and invasive,
IVF can result in a pregnancy with more than one fetus (multiple births). If more than one embryo is implanted into your uterus.
Also, it depends on the clinic's treatment population and treatment approaches.
One cannot relax when pregnancy is confirmed, the only relief is when you hear the baby cries.
IVF does not give you a 100 percent chance for pregnancy, depending on your age. Therefore, to have a baby via IVF use your best reproductive age (18 to 35 years).
Once the baby's eyes open and make contact with yours
All the grief, pressure, and burdens you held will fade away.
What are the risks of IVF treatment?
The risk of IVF may include the following but these rarely happen with the advancement of medical science today:
Ovarian hyperstimulation syndrome: The use of injectable drugs like human chorionic gonadotropin (HCG) to induce ovulation can make your ovaries swell and painful (rare case).
Egg-retrieval procedure risk: During egg collection, the aspirating needle may cause bleeding, infection, or damage to the bowel, bladder, or blood vessel.
Ectopic pregnancy: Possibly 2% to 5% of women can have embryo implantation in the fallopian tube. The embryo can't survive outside the uterus and makes it impossible to have a pregnancy.
Miscarriage: Women get pregnant via IVF with fresh embryos is similar to conceive naturally. However, about 10% to 20% miscarriage rate can involve. Also, the rate increases with maternal age.
Multiple births: Multiple births risk is more with IVF if more than one embryo is implanted into the uterus. It can carry a higher risk of advanced labor and low birth weight than pregnancy with a single fetus does.
Birth defects: The birth defects depend primarily on the age of the mother, disregarding how the child is conceived.
Cancer: There is no appearance of significantly increased risk of breast, endometrial, cervical, or ovarian cancer after IVF but it may be possible. There is no report of such a cause.
Stress: The process of IVF can be financially, physically, and emotionally draining. Support from counselors, partners, family, and friends is of great relief during the ups and downs of infertility treatment.
Take fruitful steps before your IVF first cycle begins:
Decide how many embryos will be implanted?
Your age is the most important factor in determining how many embryos will be implanted and the number of eggs retrieved into your Uterus. Your best reproductive age falls between 18 to 35 years. Usually, the rate of embryo implantation is low in older women, using donor eggs or genetically tested embryos more embryos can be transferred. While processing IVF in older women the doctors use their skilled expertise following specific guidelines to prevent multiple pregnancies, triplets, or more. Make sure to discuss with your Doctors the number of embryos to be transferred before the procedure begins.
Successful pregnancy on your first cycle of IVF can be a probability. You can suggest preserving your extra unused embryo for future use. The embryo can be preserved for several years. Also, the preserved embryo can be used again in IVF to have another child or you can donate unused frozen embryos to another hopeful couple whose uterus is absent/removed or donate to a research facility, you will receive compensation for your donation. You can also choose to discard unused embryos.
What will be your decision in case of multiple pregnancies?
If more than one embryo is implanted into your womb, multiple pregnancies are uncertain, IVF can result in multiple pregnancies. It can have a health risk for you and your babies. Some couples use fetal reduction (a major step with ethical, emotional, and psychological consequences) and deliver fewer babies and avoid health risks.
How do you handle potential complications related to using donor eggs, sperm, or embryos, or a gestational carrier?
A trained counselor with expertise in donor complications will help you understand the concerns, such as the legal rights of the donor. Fertility World in Gurgaon is renowned and certified Fertility experts possessing all the advanced technologies in IVF. It helps, navigates, and leads you in every step from the consultation to delivery holding your hands and makes you overcome any related/unrelated complications during the IVF procedure.
Your Doctors and professionals are your best mentors and advisors in IVF treatment.
The fertility world based in Gurgaon (Gurugram) is certified as one of the best Fertility professionals of the World standard in IVF treatment. We possess advanced technologies and an ultra-standard fertility laboratory. With over 25 years of experience in the fertility field, we have the way with our infertile patients. To deal with and provide an overall satisfactory friendly environment to hopeful parents is our duty to hold. We believe in our services so, with a keen commitment, we strive to fulfill your longing dreams of having a child. Most importantly, we commit your successful IVF at the best of minimal IVF cost starting from Rs. 1.2 lakhs to Rs. 2.5 lakhs, Rs.3 lakhs to Rs. 5 lakhs depending on your infertility terms and conditions.
Talk with our professionals +919311850412,
Mail us at info@fertilityworld.in
Our location- Sushant Lok 2, sector 55, Gurgaon 122011 India
Fertility World Success rate
| | |
| --- | --- |
| IVF SUCCESS RATE | PERCENTAGE |
| IVF With Donor Eggs | 80% |
| IVF With Self Eggs | 70% |
| IVF With Donor Sperms | 70% |
| IVF With Self Sperms | 75% |
| IVF With ICSI | 85% |
| IVF With FET | 60% |
| IVF with PESA | 55% |
| IVF with PGD | 43% |
| IVF With Surrogacy | 75% |
Fertility World extends its network with other IVF centers based in Gurgaon, all over India, and is also associated with the best IVF center Internationally. Some of our associates in Gurgaon include the following IVF centers:
India IVF clinic- Gurugram, Haryana 122002
Prime IVF Hospital – IVF Hospital In Gurgaon
Medicover Fertility – Gurgaon
Faith Fertility | Gynae & IVF Centre – Gurgaon
Cloudnine Fertility & IVF Center – Gurgaon, Haryana 122003
Book an appointment with the Fertility World Today. Grab the advanced IVF treatment.