The Fertility World is a certified and accredited IVF center in Malaysia. It offers a complete comprehensive range of IVF treatments under its roof with high success rates, lower IVF treatment costs @15,000 RM. Its contributions in innovation in ART, integrity, medical & technical excellence, and consistently following its commitment, willingly accepting infertile patients facing the most medical challenges of not conceiving naturally.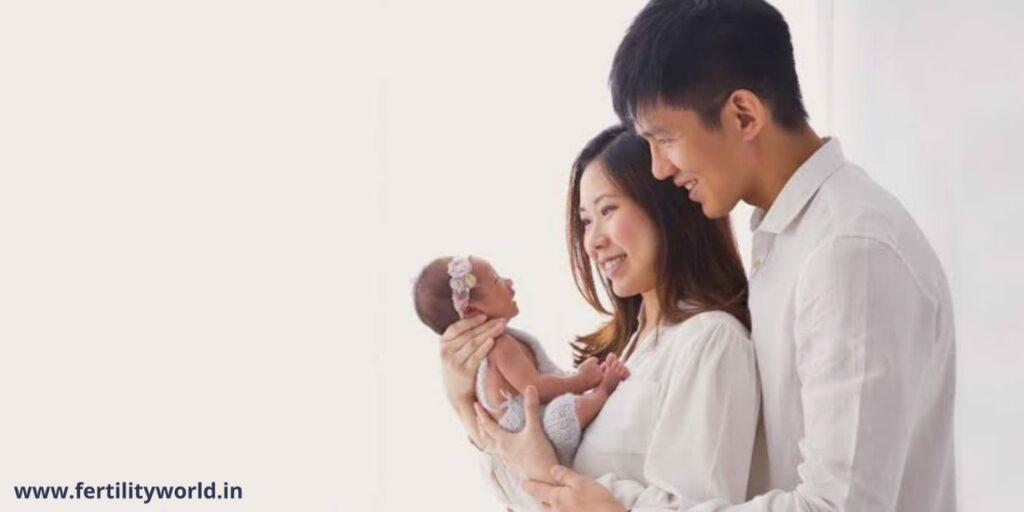 Twenty years of experience in the fertility field is building many families with a beautiful gift "A Baby(ies)". Our highly experienced team of fertility specialists, embryologists, nurses, and support staff will help make your dream of having a baby come true in Malaysia.
Highlights: The Fertility world in Malaysia
The renowned and accredited Fertility Center
20+ years of experience in the fertility field
Highly skilled teams of medical experts,
Advance ART technologies maximize 100% success,
Provide up to 100% fertility success rates,
Offering IVF at low cost from 15,000 Malaysian Ringgit,
Fertility World IVF Success Rates in Malaysia
Generally, all around the Globe, the average IVF success rate is around 50% in young women. The chances of success rates also increase in women below 40 years of age. The success rate of this most commonly used ART is usually measured based on live birth per embryo transfer. The pie chart given below is the success rates at the Fertility World in Malaysia.
Fertility Facilities available at the Fertility World in Malaysia
Intrauterine Insemination (IUI)
In-Vitro Fertilization (IVF)
Intracytoplasmic Sperm Injection (ICSI)
Surrogacy
Surrogate Mother Database
Excellent Gamete Donor Bank
Laparoscopic Surgery
Preimplantation Genetic Testing (PGT)
Cryopreservation
Free Fertility Support and Counseling
India as IVF destination for Malaysian couples
If you decide to undergo IVF treatments at the Fertility World center in India. We offer a complete package at just 5000 USD, it covers an entire journey of IVF treatments starting from the following steps:
Consultations: Free of cost (no charges).
Making the Visa
Booking the flight tickets- to and fro
Accommodations: Hotel/Homestay arrangements- Your choice
Foodings
Entire IVF medications
Donor arrangements,
Complete evaluations, screenings, ultrasound, blood tests, etc,
Respected fertility experts fees (gynecologist, embryologist, nurses, staff)
Legal attorney fees
Maternal Care
Delivery arrangements- your choice
Why Fertility has become a common treatment?
Today 1 in every 5 couples is suffering from fertility problems. Therefore fertility treatments have become one of the most approached platforms. Below provided are some of the reasons that we have encountered among most infertile couples:
The Lifestyle factors (smoking, drinking, drugs).
Fully focussed on its career, losing its best reproductive age. Age plays a vital role.
Blocked or damaged fallopian tubes
Severe male factor infertility
Ovulation Disorders
Endometriosis
Uterine Fibroids
Previous tubal sterilization or removal
Impaired sperm production or Function
A genetic disorder
Fertility Preservation for Cancer or other health conditions.
Understand In-Vitro Fertilization (IVF)?
IVF is an assisted reproductive technology that is a boon for those infertile couples dreaming to start a family. IVF is an alternative infertility treatment that is rescuing infertile couples from losing their hope of experiencing parenthood.
In the IVF process, a healthy egg from the female body is collected and combined with the partner sperm from the fertility laboratory and allowed to be fertilized. The fertilized egg called an embryo is transferred into the uterus to carry the pregnancy.
Understand IVF procedure in detail:
Step 1: Book an appointment: If you have decided to opt for IVF treatment or wish to know any information related to fertility issues, book an appointment at our provided platform, or fill out the form on our website.
Step 2: Free Consultation: On receiving your appointment, our coordinators will schedule you a direct appointment with our fertility Doctors. You can have a direct telephonic conversation with our experts, discuss over email and get some tests done locally. Our experts will evaluate your fertility conditions or examine your previous reports and based on this he/she will suggest appropriate steps to follow.
Step 3: Ovarian Stimulation: The treatment usually starts on the 2nd or 3rd day of your period. You will be given hormonal injections for the next 10 to 12 days. The hormone includes follicle-stimulating hormone (FSH), estradiol (E2), anti-Mullerian hormone (AMH), or antral follicle count. These hormones help her to produce more eggs than she would produce in a normal month. If the woman is determined to have poor ovarian reserve based on any of these values, she can still pursue IVF but may need to consider the use of donor eggs.
Step 4: Egg Retrieval: About the 10th to 12th day, a trigger injection (HCG) is administered, and two days later the eggs are retrieved. These steps involve 30 minutes under anesthesia and won't feel any pain in these steps. A device called a catheter is used under the ultrasound guide that sucks out the eggs from the follicles one at a time.
Sperm Collection from the husband or a Donor: The male partner will have a semen analysis to decide whether ICSI is indicated, based on sperm morphology, count, and motility. The partner is asked to provide a sperm sample via masturbation or through different means. The collected sperms are then put through a high-speed wash- spin cycled and concentrated to find the healthiest sperm to become fertilizable to the egg.
Step 5: Fertilization: Insemination or ICSI is used to fertilize the eggs. 50k to 100k sperm are incubated with an egg for 12-18 hours and an embryo is formed. Male factor infertility may require ICSI, where one immobilized sperm is directly injected into the oocyte/egg. This bypasses the need for the sperm to penetrate the zona pellucida, the glycoprotein matrix that surrounds the egg.
Step 6: Embryo transfer: The fertilized embryos are allowed to grow for about 3 to 5 days (blastocyst stage) before transferring them to the uterus. The pregnancy test is done after 15 days of transferring. You will be regularly monitored via blood tests and ultrasound to confirm pregnancy.
Confirm Pregnancy: If the first attempt of IVF is positive, you can continue carrying pregnancy like any other normal pregnant woman for nine months. Your pregnancy is monitored regularly.
Childbirth: One of the most amazing feelings you could ever have is to listen to the heartbeats of your child, all the pain you suffered will vanish within a second and this amazing gift will dwell in you always. Be bold enough to bear the pain and have the courage to face the realities.
How to arrange the Gamete Donors?
If the female partners have a low ovarian reserve or have had multiple failed cycles of IVF and are unable to get fertilized, to have successful IVF treatments, then you might consider the Eggs from the donor. Remember that the quality of the eggs is one of the most common reasons for IVF failure as it declines steeply as women age.
For a 100% successful outcome, the fertility world has maintained an excellent donor bank in its center. Our donors are medically screened and highly healthy and are ready to donate their eggs or sperm. We provide a relevant information profile of our donor database, which includes:
Race
Color
Nationality
Height
Education
Medical background etc.
Based on your choice from our profiles, you will receive an egg for IVF treatments. Once you have selected, we will take care of everything.
How much time does it take for IVF treatments?
Do not worry, though IVF is a complex series of procedures and requires a very patient environment, the entire steps will be completed within 20 days. Starting from ovarian stimulation till the embryo transfer into the uterus, it will take 18 days to 20 days.
Available alternative treatment before IVF treatment?
The following test can also be done locally before traveling and you can share the reports during consultations. All these facilities are also available at our center.
Test for Women: 

Complete hormone profile during day 2 and day 4 of periods.
Complete blood profile and Viral markers
Ultrasound to assess the uterus and ovaries
X-ray the fallopian tube- Laparoscopic surgery if needed.
Intrauterine insemination (IUI)
Test for Men:

Complete semen analysis
Viral markers for HIV, Hepatitis B & C, syphilis, etc.
Why should you choose Fertility World, Malaysia?
The Fertility World has the largest network of fertility centers in Malaysia, it is recognized as a renowned center with the highest number of IVF babies being born to date produced by the Malaysian Book of records.
It produces outstanding success rates, it has highly maintained high IVF success rates that are leading the center to the top IVF center in Malaysia.
It has proven track records and counting, we have produced several groundbreaking achievements, validating its most advanced and innovative technologies, together with continuous Research and development in the fertility field.
It has a top leading team of fertility specialists working together- the different language spoke fertility experts, the world's highly experienced and respected experts taking care of your parenthood dreams. We believe in helping one another who requires our expertise.
What is the cost of IVF in Malaysia?
The Fertility World is a top dedicated fertility center in Malaysia, it is committed and connects with its patients in the most trusted and honest practices for IVF treatments. We're proud to dedicate our services to those infertile couples to put a smile on their face again. We share a great chain with the most trusted fertility centers around the globe.
The Fertility World offers the Cost of IVF treatments at just 15,000 Malaysian Ringgit. The cost we are offering is always flexible and transparent, we don't entertain any hidden charges apart from the 15,000 Malaysian Ringgit package.
Final Decisions:
Hello there! Do we hope you got what you were looking for?
If you have decided to proceed with the fertility treatments (IVF, Surrogacy, IUI, PGD along with advanced fertility treatments) at the fertility world in Malaysia. Book an appointment with us today! Remember your age plays a vital role in conceiving a Baby. As you age every day, you're weakening your reproductivity.
Get IVF treatment done before you age. Book an appointment, we take care of your parenthood dreams.